"Aegis is the market leader in distracted driving solutions with an estimated 75% market share."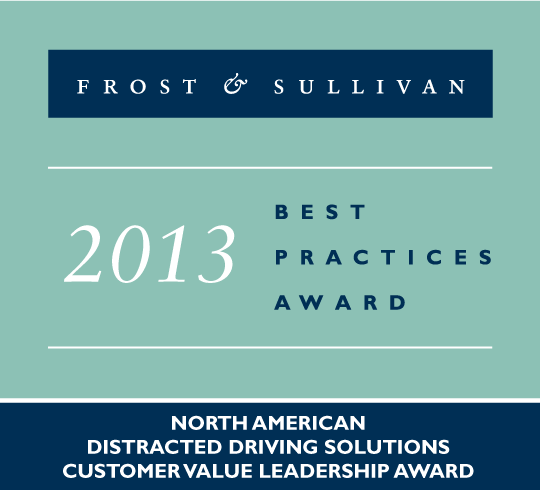 VANCOUVER, CANADA  August 6, 2013 – Aegis Mobility, the global leader in solutions to prevent distracted driving, announced today that it has received the 2013 Frost & Sullivan North American Customer Value Leadership Award for Distracted Driving Solutions.
The Frost & Sullivan Award for Customer Value Leadership is presented each year to the company that has demonstrated excellence in implementing strategies that proactively create value for its customers. This award recognizes the company's focus on enhancing the value that its customers receive, beyond simply good customer service, leading to improved customer retention and, ultimately, customer base expansion.
Distracted driving due to mobile device use has become the number one cause of accidents on North American roadways and is responsible for more than 2,000 deaths and $50 billion in damages annually. Fortunately, there are now technology solutions to address the problems arising from the distractions caused by mobile devices.
Nandini Tare, Frost & Sullivan's lead industry analyst, said, "FleetSafer from Aegis Mobility is the broadest portfolio of solutions to address distracted driving. Given the diverse needs of corporate fleets, this breadth of offering is critical to delivering the best possible value to enterprise clients. Importantly, the Aegis products are managed under a single portal, which provides powerful and easy-to-use administration, analytics and reporting. These are the reasons that Aegis was chosen as the 2013 award recipient and these are the reasons that Aegis has earned the industry leadership position with an approximate 75 percent market share."
Paul Zimmerman, CEO of Aegis Mobility, commented, "Aegis is honored to receive the Frost & Sullivan 2013 Customer Value Leadership Award. Our company has served as an industry pioneer since 2006 and is proud to deliver the best possible solutions to assist our customers in creating safe and productive work environments."
To read more about the award, check out the full details under Research & White Papers. A combination of market, regulatory and technology factors have created a "tipping point" for distracted driving solutions in 2013. Stay up to date on all the latest developments in the industry at the Aegis Distracted Driving blog.
About Aegis Mobility
Aegis Mobility is the world's leading provider of patented software for mobile devices to prevent workplace distracted driving. Designed specifically for corporate customers, FleetSafer®, enables employers to proactively promote safe and legal use of mobile devices while employees are driving on the job. For more information, please visit www.aegismobility.com.
About Frost + Sullivan
Frost & Sullivan enables clients to accelerate growth and achieve best-in-class positions in growth, innovation and leadership. Frost & Sullivan boasts a global research organization of 1,800 analysts and consultants who monitor more than 300 industries and 250,000 companies. The company is celebrating its 50th year partnering with Global 1000 companies, emerging businesses and the investment community from over 40 offices on six continents. Learn more at Frost.com or follow on Twitter @Frost_Sullivan.
Press Contact
Daniel Gélinas
This email address is being protected from spambots. You need JavaScript enabled to view it.
+1 778-373-3843